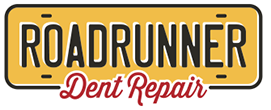 Congratulations to the team at Roadrunner Dent Repair on the launch of their new branding and website. Great Blue Communications is happy to have been able to play a part in this launch through messaging and web copy that will further elevate Roadrunner's brand in the automotive sector.
Roadrunner has been in business since 2011 as the paintless dent repair go-to for dealerships, body shops and retail customers across the Greater Toronto Area. From catastrophic hailstorm damage to a small door ding, or anything in between, Roadrunner has the skills and experience to make a vehicle as good as new.
Roadrunner recently recognized the need for a new website that would better reflect its professional expertise as it continues to grow. An important factor was the need to tell a unique story to three different markets: car dealers, body shops, and vehicle owners. Roadrunner turned to Great Blue to write compelling web copy that appeals to each of Roadrunner's target audiences. The resulting site – created in partnership with a web designer and graphic designer – clearly and effectively communicates Roadrunner's capabilities as a dent repair specialist.
Check out the site at www.roadrunnerdent.ca.